Smart Phone Art
Auditorium Hall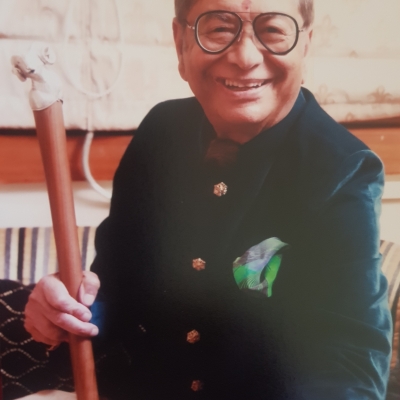 Dilip De
Smart Phone Art
Dilip De is an Indian entrepreneur. He is the founder of RST (formerly known as the Ranadip Shipping Group). He also servers as a member of Jehangir Art Gallery, one of India's most reputed non-profit art center, which plays a primary role in encouraging new talents and as well as established artists to promote art and craft in India. He is also a member of Bombay Art Society, the oldest art center in India, which offers a platform to emerging and established artists.
The Ministry of Commerce & Industry issued Copyrights to De for for his breakthrough in using a smartphone and stylus to create art. De thus recognized as the first artist to create art on an unconventional canvas by painting with his smartphone. He donated the entire proceeds from the exhibition which was held on 16thAugust, 2016 at Jehangir Art Gallery to Cancer Patients Aid Association, Mumbai.
De, as a Collector of paintings and crafts have always encouraged both established and emerging artists to realize their full potential.
Education
De was educated at La Martiniere, Kolkatta School for Senior Cambridge Certificate and read Bachelor of Commerce at St. Xavier's College, Kolkatta.
Awards
1. The Orchid Society of India (TOSA) (Panjab University) Entrepreneurship Development Award in recognition of his outstanding contributions to Promotion of Orchid Science and Commerce.
2. Port of Charleston, USA honoured De with an Honorary Brach Pilot designation for his contribution to ocean shipping.
3. De was honoured with a Shiromani Award, 1990 for his pioneering role in introducing containersed shipping in India.
Career
De started his career with American Shipping Company Everett Steamship and then moved on P&O/BI/Mackinnon Mackenzie Group in India. Entrusted with purchase of bulk carriers, shipping services, travel & tourism activities. De served as Chairman of Japan/India/Persian Gulf Conference and West Coast of India – USA Conference which monitored trade practices of member Shipping Companies on these global trade routes. Subsequently, De established Ranadip Shipping to introduce multimodal global containersed shipping service in conjunction with Sea-land Service Inc. Later, diversified into real estate, warehousing, port management, logistics, stevedoring and floriculture.
De served on the Expert Committee of United nations Development Programme on shipping, aviation, surface transport for Economic Reforms.
De served on Board of Thomas Cook India and Hindustan Cargo Ltd.
De was Deputy Chairman of Indo-Dutch Business Council of Bombay Chamber of Commerce. As an invitee of the Dutch Government, De visited Holland to expand start up investments in floriculture industry.
At invitation of the Government of India, De served as a member of the Central Advisory Committee for Lighthouses.
The Creators Project
How A Wealthy Businessman Became an Artist By Painting with his Phablet
Francesca Capossela - Aug 20 2016
A well-known art collector and wealthy Mumbai businessman was standing in his orchid gardens in Alibag when he was struck by a desire to paint the flowers for his writer wife. Taking out a stylus and his Galaxy Note, Dilip De got to work. It took him a while to understand how to work the stylus and he accidentally deleted several paintings before eventually completing his first ever piece of art. Spurred by this experience, De began to paint on with his device voraciously. Clearly influenced by Picasso, De explains that he studied art both when he was younger and as an art collector, and he has applied his knowledge of art history to his new passion, invoking themes of abstract surrealism and figurative art. Introducing his work, De excitedly explains that his phablet-based art allows him to create whenever and wherever, making art "omnipresent." On August 17th, De's 24 paintings were shown in an exhibition called Celebration of Love at Jehangir Art Gallery.
After contacting Samsung India to ask if the company knew of other exhibitions of this nature, De partnered with the company for his first exhibition. However dubious a partnership between the shipping tycoon and multibillion dollar company may seem, De's excitement about his painting is obviously genuine. As an art collector, De explains that he "encouraged both established and emerging artists to... sell their works for the highest prices achievable" because "an artist cannot produce on an empty stomach!" Calling himself a "budding Notebook phone digital artist," De says he wants to help every unestablished artist in India realize that they can turn their passion into reality, using technology to make art more accessible and affordable. De's artist statement, along with his background, raise important questions about the art industry and its accessibility, but his simple discovery story and palpable enthusiasm are heartwarming, and his art is thoughtful and multifaceted. Creators Project has described Dilip De's paintings with his phablet as a story of Simple Discovery. About Dilip De's creative digital art on a phablet, Samsung India has acknowledged that they have not encountered an exhibition of art created on their Galaxy Note Series.
(The Creators Project is a global celebration of creativity, arts and technology. Launched in 2009 with INTEL as Founding Partner, the platform features the works of visionary artists who are using technology to push the boundaries of creative expression. Participating artists include Karen O, Andrew Huang, Mick Rock, Barney Clay and David Bowie)
Creators Project has described Dilip De's paintings with his phablet as a story of Simple Discovery. Samsung India has acknowledged that they have not encountered an exhibition of art created on their Galaxy Note Series.
(Reference- http://thecreatorsproject.vice.com/blog/indian-businessman-becomes-artist-with-phablet-paintings)
'Art is Omnipresent': The Artist's Statement
By Dilip De
Whilst standing in my orchid gardens in Alibag, I felt the urge to draw these beautiful flowers on my Galaxy Notebook for my wife, Shobhaa. As an anadi with gadgets, it took me a while to learn how to use a phone stylus as a 'brush' and 'dip' it in the colourbox, my purported palette, which is an integral part of the Samsung phone. Soon, much to my delight, I started drawing the outlines of an orchid flower on the tiny screen – 5.2 x 4 inches which came to be my 'canvas'! Regrettably, in my initial enthusiasm, a few of my paintings disappeared from the screen as I had unknowingly put extra pressure on the screen whilst drawing – sadly those works vanished in an instant and were lost forever. Gradually, however, I mastered the required skill and surprised Shobhaa with a painting of a Sakura!

That was the start of an unchartered journey of self-expression and this specific process of painting on a Samsung Notebook that has never been tried before. Unlike conventional art for which an artist requires a studio, brushes, paints, easel and palette – I, luckily can draw and paint at any place where inspiration strikes –be it in a restaurant, airport or bedroom – anywhere! I am merely reminding and emphasising, as I joyously discovered, that Art is omnipresent ... and artistic expression can be realised at any place and time. Art is no longer confined to a studio, but is truly the product of spontaneity and creativity achieved at ones leisure.
As a person born into a family of art connoisseurs, I learnt to enjoy and appreciate art, beauty, nature and colours from an early age. An important part of being an art collector is to read as much as you possibly can. Knowledge is your greatest tool. While reading about important European schools and artists of the 20th Century, Surrealism is the one movement that has stayed with me. Now, as I begin my own artistic journey, I can see the sub-conscious influence of Surrealist principles in my work as well. Duality and Intrigued would be what I call the 'figurative' school whilst Ravishing Kanchenjunga, Mumbai Sky Symphony and Alibag Sky Tango could be called 'abstract' surrealism, which is based on the belief that certain forms are better recognised in a superior reality, as they could often be neglected in their everyday manifestation.

I thoroughly enjoy the challenge of creating art in a restricted space without the aid of an art related, painting, drawing, enhancing image 'Application Software'. Even though my medium is cutting edge, I draw in the traditional technique with a stylus provided by the manufacturer. As a budding artist, I am eager to learn new, complex techniques that will enable me to develop a distinctive style and unique visual vocabulary, thereby expressing my thoughts graphically, rather than sending political or confrontational messages. I am apolitical. I don't take myself seriously as an artist... but this discipline helps me to be calm, humble and eager to learn. My focus is to explore how technology can help create new art forms, thereby reinforcing the idea that traditional art, drawing in particular, can be adapted to keep up with artistic advances in our technology-focused lives, beginning with our smartphones.

I accidentally achieved this breakthrough on a Samsung Galaxy Note Series, which may well be a new development in digital art, with the help of a stylus and palette provided by the manufacturer but without the aid of any apps. Samsung India has acknowledged that they have not encountered an exhibition of art created on the Samsung Galaxy Note Series and are thus partnering me in showcasing my first solo art exhibition at the Jehangir Art Gallery on August 16, 2016. I have pledged to donate the entire proceeds from this sale of limited edition digital prints to the Cancer Patients Aid Association in Mumbai.
As a Collector, I have encouraged both established and emerging artists to realise their full potential and sell works for the highest prices achievable, much to the chagrin of my fellow collectors. My point was and remains simple – an artist cannot produce art on an empty stomach! Now as a budding Notebook phone digital artist, my dream is to make every budding artist in our country realise how easy it can be to follow a dream and turn a hobby into a reality. And to all those who love art: here's yet another way that technology has made things more accessible and affordable.
This new found experience gives me happiness and it serves as another form of meditation and self-discovery which helps me to improve myself and be a better husband, father, brother, friend and a better human being… People must remember that art is omnipresent and I hope my experience will convince others to spread Smart Phone Art!
Purchase Smartphone Created Artwork at affordable rates from Dilip De's official Website
Dilip De has created a new series of paintings with a new technique of layering colours in different hues under the title "Celestial Collection" and De has created his personal webstore to promote cashless art – here's yet another way that technology has made things more accessible and affordable. You can buy them in various sizes at an affordable rate.
The artworks are fastidiously printed and wonderfully produced, using archival grade pigment inks on the finest canvas. They are coated with an extra protective layer which reduces scratches.
These pieces of art work are definitely stunning and you will treasure them for years.
Press Coverage
Dilip De's smartphone created abstract, landscape, portrait, & cubist art has been featured in the following online publications:
· The Creators Project: How a wealthy businessman became an artist by painting with his phablet- http://thecreatorsproject.vice.com/blog/indian-businessman-becomes-artist-with-phablet-paintings
· Times of India: Amitabh Bachchan inaugurates Dilip De's debut art show - http://timesofindia.indiatimes.com/life-style-landing/people/Amitabh-Bachchan-inaugurates-Dilip-Des-debut-art-show/articleshow/53739919.cms
· Asian Age: Dilip De finds a canvas in his phone- http://www.asianage.com/arts/dilip-de-finds-canvas-his-phone-858
· Times of India: Dilip De debuts as a smartphone artist this week- http://timesofindia.indiatimes.com/life-style-landing/people/Dilip-De-debuts-as-a-smartphone-artist-this-week/articleshow/53706156.cms
· Pressreader / Times of India:
De's brush with digital phone art draws in orchids & Ottoman's.- https://www.pressreader.com/india/the-times-of-india-mumbai-edition/20160807/281685434229629
· Filmymantra Youtube: Amitabh Bachchan inaugurates Dilip De's smartphone painting exhibition- https://www.youtube.com/watch?v=7cYp3Xtu4l0&spfreload=5
· DNA India: Dilip De gives a new twist to digital art by using the mobile phone as canvas- http://www.dnaindia.com/lifestyle/report-art-gets-a-smartphone-canvas-2247298
· DNA India:
Smart phone, Smart art- http://www.dnaindia.com/lifestyle/report-smart-phone-smart-art-2245788
· Bollywoodlife.com: Superstar Amitabh Bachchan launches Dilip De's art exhibition-http://www.bollywoodlife.com/photos/celeb-amitabh-bachchan/superstar-amitabh-bachchan-launches-dilip-des-art-exhibition-celebration-of-love-in-mumbai-see-hq-pics/