MANOJ C AHER
Exhibition Gallery 4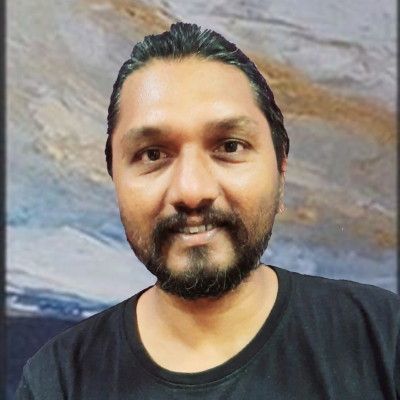 MANOJ C AHER
MANOJ C AHER
"Ehsaas" is Manoj Aher's heart felt venture. The solo show is on at the Jehangir art gallery in Mumbai from the 28th of March to 4th April 2022.
The stories that he has crafted come from his sub conscious mind. Having grown up listening to the stories of Radha and Krishna and how their love endured, and inspired artists and poets and philosophers for generations. What struck him is that although their love never culminated in marriage, it remained strong and pure.
Manoj is deeply spiritual and celebrates his relationship with Gods of all faiths. He sees them as a manifestation of the same spirit. His benign version of Lord Ganesha or his deeply moving Shivas' leave a mark on the believer. The meditative eyes particularly are deeply moving.
Manoj likes to celebrate the feminine form. The softness of the woman, the long tresses and her loving expression inspire him greatly. The Indian woman particularly with her seductive soft look and the saree draped to allure find favour in many of his stories.
Manoj's journey in art started in troubled times when the family's fortunes took a huge beating. He was moved in to getting his act together. He turned inward and drew upon his inner strength and firm belief in God. He started as an apprentice to the famous artist Anand Panchal from whom he learnt the language of art and expression. Art is more than Manoj's livelihood. It remains his passion and obsession.
Manoj is inspired by many artists but it is his endeavor to be apart from all. He aspires to make his mark in each of his work.
The finish is always smooth and perfect and each stroke is dipped in inspiration.
We hope each rendition will touch your heart and leave a lasting impression.