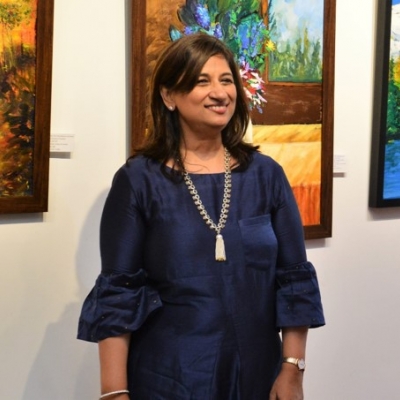 VANDANA MEHTA
VANDANA MEHTA
Vandana Mehta
Art is a form that decodes an individual's perceptions and ideas. I personally feel that my artwork depicts my positive and loving nature which is in the form of landscapes and abstract paintings on canvas. I rose from humble beginnings during my school days starting with charcoal paintings on paper, published by Sydenham Magazine in the year 1983-84 to becoming an acclaimed visual artist today.
I tend to paint at night as the silence helps me bring my abstract thoughts up on canvas. With the experience of 3 decades, I have realised that art cannot be bound by any boundaries and started collaborating it with my travels. I have witnessed visitors and art enthusiasts derive images that were not in my initial purview, but have looked at it with a completely different approach.
I have represented my learnings from the Bob Ross Academy, USA and from the prestigious J.J School of Art in various mediums like, acrylic, charcoal, oil, mixed media, and print making. The medium is carefully chosen depending upon the significance of the painting. Abstract paintings are my primary forte. I feel that it works as a mirror for its viewers. They see themselves and draw their own perception about such art. The sign of a true artist is that it inspires people to search their truth inside themselves rather than searching elsewhere.
In my journey of 33 years, I have mastered several forms of art and held multiple exhibitions in India and abroad. My paintings cater to all kinds of collectors along with art connoisseurs and therefore are hugely appreciated and adorn the walls of several homes globally. My passion also drives me to hold art workshops for emerging artists to connect their artwork to their soul using my knowledge and experience.
Being a singer, a jewellery designer, an established financial consultant, the owner of V.M. Jewels, and a partner at Solar desk, I juggle between multiple roles in my daily life and thrive at it with a lot of passion and energy. Although playing the role of an artist makes me feel the most content, as I can spread an incessant amount of positivity across households through my work.