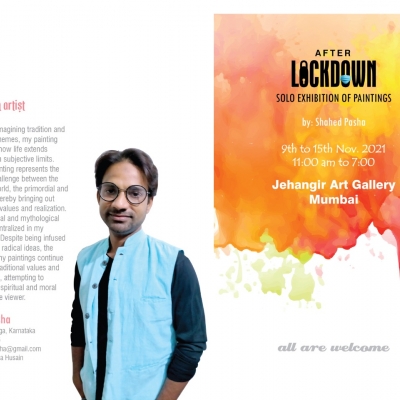 SHAHED PASHA
SHAHED PASHA
About paintings :
By creatively imagining tradition and mythological themes, my painting demonstrates how life extends beyond its own subjective limits. Further my painting represents the continuous challenge between the self and the world, the primordial and the modern, thereby bringing out contemporary values and realization. Historical, social and mythological aspects are centralized in my compositions. Despite being infused by original and radical ideas, the characters in my paintings continue to broadcast traditional values and true messages, attempting to strengthen the spiritual and moral character of the viewer.

Brief Bio Profile of Shahed Pasha :
I got two gold medals in Master of  Drawing and Painting, & completed my Ph. D, Degree in Visual Art from Gulbarga University, Karnataka. 
My work of art has been showcased at various national and international exhibitions in India and abroad. I been featured in more than 07 solo shows, 48 group shows and participated in more than 51  national as well as international art camps across the country.
I recipient of More than 52 Awards such as the Karnataka Lalit kala academy Award, All India Art Exhibitions, International Art Competitions & 2 fellowships State lalit kala academy & Maulana Azad National fellowship. presently working as an Guest Lecturer at Dept. of Visual Art Gulbarga University Gulbarga, Karnataka India.